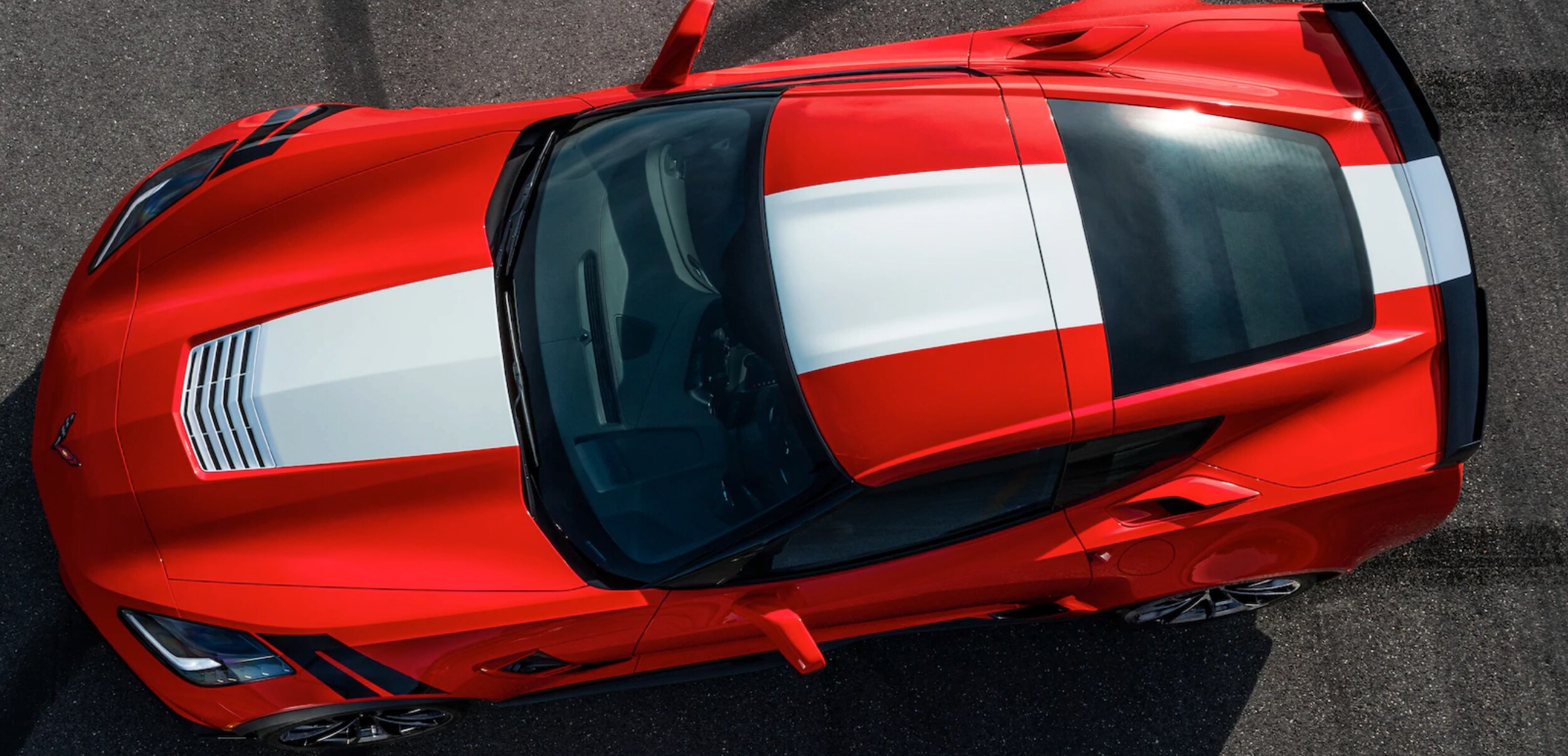 Whether you're dreaming of a new sports car to blaze through the Virginia summer or you just love sports cars, the 2019 Corvette Coupe is sure to pique your interest. Check out our full review:
Forget sports cars with massive price tags, the 2019 Corvette Coupe's performance is on par with some of the best sports cars in the world. This is thanks, in part, to the powerful 455-hp V-8 roaring under the hood and the chassis that provides optimal handling capabilities. The bold, yet immaculately sleek exterior and interior design are also nothing short of head-turning. In 2019 Chevrolet rolled out two new colors: Shadow Gray and Elkhart Lake Blue.
The most significant news for Corvette enthusiasts this year is the return of the ZR1 model, which originally gained popularity because of its unique styling and its outstanding performance. The 2019 ZR1 model is the fastest, most powerful Corvette to date: it has the ability to go from 0 to 60 in 2.85 seconds and has a top track speed of 212 MPH. It was also voted 2019 Road and Track Performance Car of the Year.
The ZR1was born from the Corvette racing program, with one thing in mind: performance. Under the hood, it boasts a hand-assembled 6.2L LT5 supercharged small block V8 engine. It delivers 755 horsepower, along with 715 lb. -ft of torque. It also has the largest ever Eaton supercharger that has ever been manufactured: the high-flow efficiency 4-lobe design rotors means it maintains its full effectiveness at the highest speeds. And it has the symphony to boot! It's the driver's choice whether they want to announce their presence on the road, or not. The four-mode exhaust system provides an array of sound profiles—Track, Sport, Tour and Stealth. So, take off with a roar in Track mode, or fly under the radar in Stealth.
There's also the option to add on the ZTK Track Performance package, which includes: an adjustable carbon-fiber high rear wing, carbon-fiber end caps on front splitter for optimized downforce (Coupe only), Michelin Pilot® Sport Cup 2 summer-only tires, 30% higher front and 13% higher rear spring rates, and Specific Magnetic Selective Ride Control tuning to increase your car's grip.
Power and Exhilaration
In the most basic sense, the lineup of 2019 Corvette Coupes are a fun car to drive. With eight powerful cylinders and 455 horsepower, it's ready to take off on the Virginia highways when you are. The V-8's signature roar has the ability to get any driver antsy, but the throbbing quiets down while maintaining highway speeds.
The standard 2019 Corvette is a 7-speed manual, but if you are a thrill seeker with a love for speed, there is also an 8-speed option. The 2019 Corvette is astonishingly quick, a dream to handle and stops on a dime. It has the handling of luxury sports cars for a fraction of the price. The Grand Sport model has magnetorheological dampers that provide an effortless ride in the vehicle's Tour mode, as well as having the ability to progressively lock the chassis down in sport and track modes. You need impeccable handling for all that power not to go to waste—and the 2019 Corvette's helm is optimally quick and reactive. There is nothing like the thrill of steering the dials up in track and sport mode—but the option for Tour mode is always there if you're in the mood to comfortably cruise along a back-country road. If you're interested in learning more about new Chevy cars and trucks in Richmond, check out your local dealer.
Comfort and Convenience
The 2019 Corvette Coupe comes with remote keyless entry, turn-by-turn navigation directions, wireless phone connectivity, and smart device integration. Chevrolet's touch screen is immaculately responsive and easy to use and loaded with features like Android Auto, Apple CarPlay, and 4G LTE mobile hotspot. It also features a Bose speaker system and a telescoping steering wheel with audio and cruise controls.
Although storage space isn't usually a prospective sports car buyer's main concern, the 2019 Corvette has a surprising amount of trunk space. There's plenty of room to stow your luggage for a summer road trip. Perhaps that's one of the reasons why it was voted one of the best road trip cars in 2019.
Driver's with an appreciation with creature comforts will find them readily available in the 2019 Corvette Coupe add-ons. Visit a Chevy dealership in Richmond to talk to one of the representatives about all of the exciting options.
Safety and Technology
The 2019 Corvette models come with safety features like Active Handling, Traction Control, standard Bi-Xenon headlamps, and 4-wheel antilock brakes. A light aluminum space frame provides optimal stiffness, should an accident occur. Every car also has OneStar Automatic Crash Response that can get you the help you need as quickly as possible.
History and Legacy
The Corvette is the longest-running, continuously produced passenger car in the world. GM unveiled the Corvette in 1953 as "the dream car" before the first 300 rolled off the distribution line in Flint, Michigan and instantly captivated the nation. Over its 60-year-run, the Corvette has established itself has an example of outstanding homegrown performance, wrapped in a compact, two-seater package. The production then moved from Flint to St. Louis Missouri, and finally to Bowling Green, Kentucky where it still resides.
To this day, there isn't a car that matches the Corvette's power for its value.
You too can be part of Corvette's legacy. With the return of the ZR1 model, there's never been a better time to see what this amazing car has to offer.
For more information, stop by a Chevrolet dealership in Richmond for a selection of new Corvettes and Chevy trucks. Chevrolet dealerships in Richmond are also outfitted to meet all your service needs.