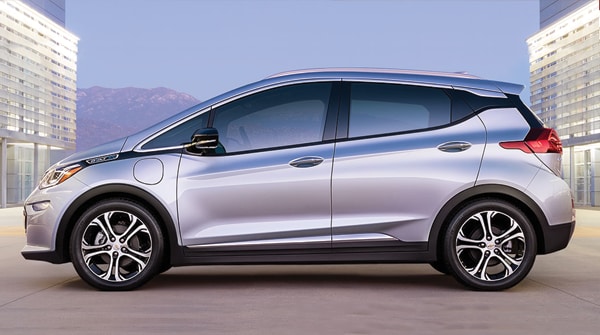 Tesla has certainly made a name for itself, and no one can deny that the automaker has done a good job of marketing itself as the ultimate in electric. However, Chevrolet is giving it a run for its money with the 2017 Bolt, a long-range electric with a reasonable price tag that just might expose some of Tesla's shortcomings.
General Motors recently announced that the all-new Bolt will start at around $37,495 MSRP. If you take into account tax credits that come with buying an electric car, you could be spending as little as $30,000.
However, the low cost isn't what makes the Bolt superior to the Tesla Model 3. Drivers can go 238 miles on a single charge with the 2017 Bolt, compared to the Model 3's 215 miles per charge. While both vehicles blow past electric car ranges out of the water, the Bolt's additional 23 miles is significant if you're going to be exploring the rural roads of
Virginia
.
"The Chevrolet Bolt represents the first "real" electric car in the history of the automobile," said Karl Brauer, analyst for Kelley Blue Book, quoted by USA Today. "Now the Bolt arrives with a real-world range and a real-world price. This combination doesn't guarantee success, but it will finally put EV technology to a real-world test in appealing to real-world, mainstream consumers."
Aside from price and range, here are some other reasons why the 2017 Chevy Bolt is a game-changer:
Performance
This is no toy car, going zero to 60 in just 7 seconds – faster than most other electric models tested by Car and Driver. It also has 200 horsepower and 266 lb-ft of torque at zero RPM, making it an electric with some power that you'll have fun driving.
Space
The Bolt looks small in stature from outside, but inside it has 94 cubic feet of passenger cargo space and 17 cubic feet of cargo space, behind split-folding back seats. The interior has been designed to feel roomier than its actual size would suggest. It has a flat floor to provide leg room in the backseat, and bucket seats in the rear further ensure that even adults will be comfortable in the back.
Features and Premium Options
The Bolt's dashboard has a 10.2-inch configurable touchscreen display, as well as an 8-inch electronic cluster behind the wheel to provide all the essential information you need. It has a wide-angle camera feed that you can view on the inside mirror, providing optimal rear visibility. For connectivity, the Bolt has OnStar 4G LTE Wifi, Android Auto and Apple CarPlay. Drivers may also opt for automatic climate control, a navigation system and premium upholstery for a more luxury feel.