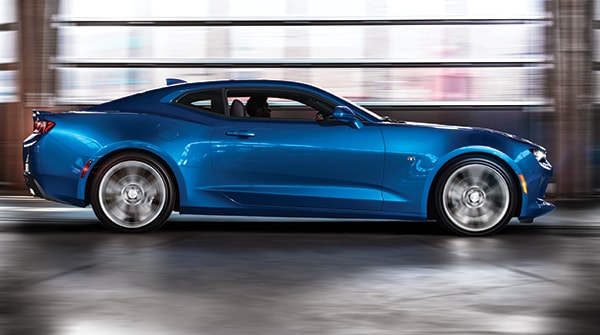 There aren't many car models that have stood the test of time over the last half century, as driver needs and technological advances have changed so drastically that most of those that debuted alongside the Camaro have long since retired.
This makes the all-American muscle car an outlier in many ways, least of which that it's still one of the most powerful and well-designed rides on the road after 50 years. As the Camaro celebrates its golden anniversary, let's take a look at its everlasting appeal and how your Heritage Chevrolet dealer can help you secure a Special Edition model:
CAMARO COMMUNITY
The Camaro is one of those cars that's not just a vehicle; it denotes a lifestyle. That's why this past summer, Chevrolet hosted some events to commemorate the anniversary and bring enthusiasts together.
"Over the past half-century, the Camaro has fostered enthusiasm, camaraderie and memories like few other vehicles," said Steve Majoros, marketing director of Chevrolet Cars and Crossovers, in a release. "It's a passion Chevrolet takes seriously and the activities this summer are a way of giving back to those who have made the Camaro an icon."
When you buy an iconic car like the Camaro, you instantly have a conversation piece for fellow gearheads, and you are part of a community that appreciates great design and premium performance. Plus, the Camaro is a true piece of Americana.
A RICH HISTORY
The Camaro was first developed as Chevy's response to the Ford Mustang, with the release of the 1967 Camaro Sport Coupe and convertible that had four engine options. Consumers loved the L78 big-block engine with a whopping 375 horsepower, and while the convertible would soon become not just popular but iconic, Chevy only made 25,000 that year.
The Camaro soon became a darling of track and drag racers, spurring even sportier designs and more powerful engines and setting the stage for the modern muscle car. In the 70's, the second generation Camaro was more driver friendly than race-ready, with a larger body and substantial restyling. The 1980s brought with it styling that conjures images of hair bands, but a serious high output engine under the hood with its 25th Anniversary Heritage Package.
After several iterations, Chevy developed the current sixth-generation Camaro, debuting in Detroit in 2015. With three engine options – including a 6.2-liter V8 with 455 horsepower – and all the latest in tech, the current model would make the original Camaro designers proud.
50th ANNIVERSARY SPECIAL EDITION
Not to be confused with the all-new 2017 Camaro, the Camaro Fifty features Nightfall Gray exterior, striping and exterior badges, a grille with satin chrome accents, black leather interior with suede accents, and a body-colored front splitter. It's truly something to behold, so talk to your Heritage Chevrolet dealer today about how to reserve yours.